Customers
Sliderz products are used in organisations and companies of all shapes and sizes all over the UK.
Whether for home or the office, Sliderz revolutionary products can help you move most objects with ease.

Here are just a few of the customers who use Sliderz:

John Lewis Delivery
British Library
County & Borough Councils
Care Homes
Carpet Fitters
Colleges & Universities
Furniture Removal & Storage Companies
Interior Design Companies
Land Registry Office
Manchester Magistrates Courts
National Trust
Serious Fraud Office
Deputy Prime Ministers Office
National Health Trusts throughout the country
Here are just a few of the comments we have received: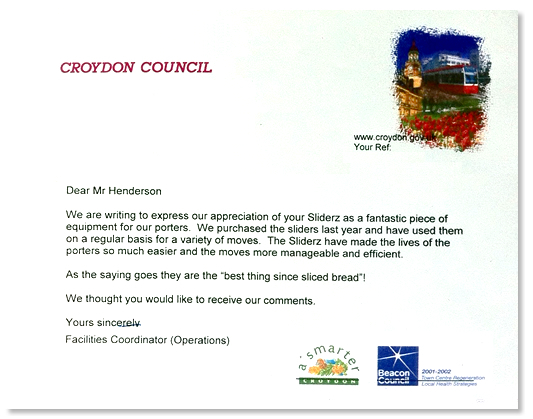 SIS Workspace have used Sliderz for over 4 years. We find them to be a very simple but very useful labour saving tool. One of the best tools we have for our installation applications.
By using Sliderz we are able to relocate a variety of furniture of all shapes and sizes without the hassle of having to dismantle, carry to the new position and re-build. Simply put a sliderz under each corner / Leg/ plinth and navigate the furniture into its new location.

We use them to move small and large items and conveniently Sliderz come in several sizes which again suits our need. We have saved a lot on time and labour. Another plus factor - they are so much lighter to carry and less bulky than conventional moving equipment.

A great find for our business.

Just to let you know how perfect your sliderz were for my purpose. I have a heavy table that I have to move for art purposes every week so that I can teach painting techniques.
I am amazed at how easily my table moves into the middle of the room now and back into it's normal place after the lessons. Before, I tended to ruck up the carpet or I would have to get someone to help me move it. I just lift up the front of the table when back in place and remove the two front ones and the back ones are left in position as they can't be seen.

I discovered your product when I visited Bringy Pine looking for some furniture and they recommended you.

Thanks again, from Phil Hinde
Hello, I have used your Sliderz in the uk and they are great.
Now I am in Milan, Italy, can I buy them here, or can you send me some online?
Regards
Danny Para

Many thanks, Thanks for a great service, Liz,
You've made our porters and space planner very happy!

Kind regards,
Jacky, Ordnance Survey
Dear Sir,

A few years ago at the Ideal Homes Exhibition, I bought a pack of Sliderz which have become invaluable to our household. I would now like to ask if there is any chance of the company making a square Sliderz for artificial Christmas trees?
I do use the four I have to enable me to slide the tree back and forth when trimming it, but it would be so much easier to have one I can leave under the tree until after Christmas, thus enabling me to make use of the other four.

The product is just marvellous and I wonder what I did without it.
Keep up the good work and do think about my suggestion.

Regards
Jessie Knight
Dear Sirs,

I would just like to say that I talked my school into getting a set of your smaller Sliderz a little while back and I do NOT want to be without them, EVER!

This school holiday I have just redecorated the school office and although we got someone in to help empty it, they were unable to return to put everything back, so my assistant caretaker and I did it all ourselves, without her I could not have considered doing it ourselves, but without the Sliderz, it would have still been impossible due to the large, and VERY heavy, and full, filing cabinets (1Mx.3Mx1M).

An excellent product, it gets my thumbs up approval!

David Shepherdson

Site Manager, Moorfield School, Ilkley